Look Who's Talking Motor Sport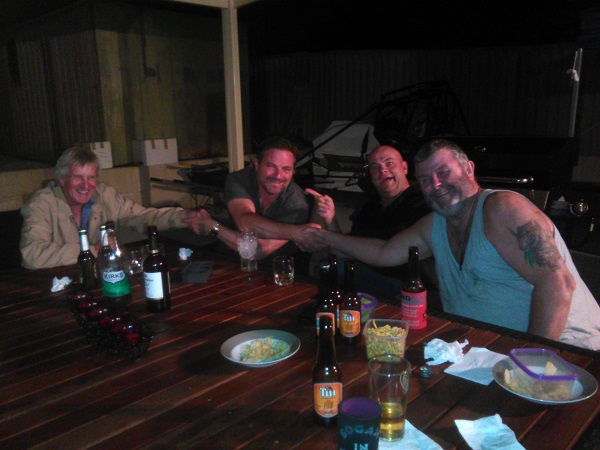 Key motor sport enthusiasts gathered at the home of Glen and Janice Vincent on Wednesday evening 14th  November 2018. Everyone present enjoyed the highly educational exchange of information and ideas.
Pictured above are Alan Meakins (Australian Speedway Drivers and Riders Association Incorporated), Chris Lewis-Williams (Austalian Auto-Sport Alliance), Steve Whyte (also AASA), and Glen Vincent from v8 Non-wing Sprints.
They each told many amusing anecdotes pertaining to motor racing. Chris Lewis-Williams gave a very good rendition of an Irish accent that had everyone in stitches. (Apologies to the Irish for that. Us Aussies are just fascinated by the lilt of the Irish accent.)
Also present was Lewis Brock, brother of the late Peter Brock. Christine (Alan's wife), was delighted to meet the brother of her idol. "He was always such a perfect gentleman", says Christine.
With a family history in racing cars, Lewis was intrigued with the V8 non-wing sprintcar in the yard. Alan pointed out the various working parts including the quick change diff that these dirt track speedway cars use.
Chris and Steve, in the West on business, also showed great interest in the dirt track cars. Their previous experience having come from black track racing.
We look forward to seeing them again in the future when, no doubt, they will have more motor racing stories to tell.