Display and Presentation Day at Corrigin
Restoration of Corrigin Speedway
If you would like to see the traditional speedway divisions racing again at Walden Park in the future, come to the Cyril Box Pavilion, Corrigin Sport and Recreation Centre, Larke Crescent, Corrigin on Saturday April 14th, 2012 and support the Australian Speedway Drivers and Riders Association Incorporated in their efforts to make it happen.
ASDRA are a non-profit organisation dedicated to making the sport of speedway racing affordable and accessible to more people. Our aim is to restore Walden Park Speedway in Corrigin to its former glory with some of the familiar divisions of the past included in the programs.
ASDRA believe that the reintroduction of speedway can benefit the town of Corrigin and surrounding Shires and districts in many ways so come along and lend your support to the project. There will be plenty of opportunities for you to become involved in the restoration and later on in the running of the venue whether it be as a support volunteer, official, spectator or competitor.
Cars and bikes from different speedway divisions will be on display in the car park of the Sport & Recreation Centre in Larke Crescent, Corrigin. Vehicles from Narrogin Speedway and more from the Perth area will be shown , with West Coast Speedcars, Motorcycling WA and the Vintage Cars also represented.
Meet the drivers of these fantastic vehicles, enjoy the sausage sizzle and learn what is being planned for the restoration of the track and buildings, and the future of Walden Park Speedway.
Venue: Cyril Box Pavilion, Corrigin Sport & Recreation Centre
Larke Crescent, Corrigin
Saturday 14th April
Open to the public from 10:30 am.
· View some of the cars and bikes that will be appearing at the speedway in the future.
· Enjoy the free sausage sizzle from 11:00 am.
· At 1:00 pm see a presentation by Joe Douglas, Town Planning Consultant from Urban and Rural Perspectives, of the plans to restore the track and buildings at Walden Park.
· Meet Geoff Pilgrim, champion speedcar driver of yesteryear.
· And much more.
Speedcars on Display at Corrigin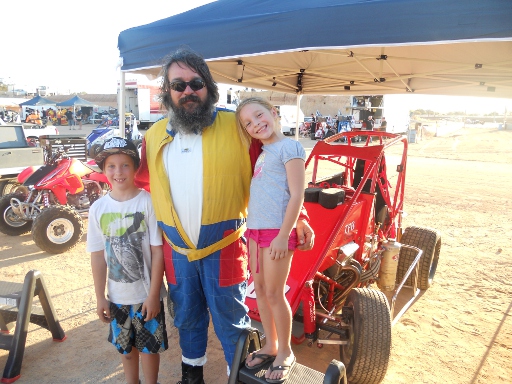 West Coast Speedcars driver Chris Davies is pictured here with his two children Izak and Aysha giving Dad a hug and a word of encouragement before heading off with their grandmother to watch the race from the grandstand. Mum Alison will stay to help in the pits.
Chris was awarded the Rookie of the Year Trophy for Season 2010-11. Find out more about Chris on his Facebook page.
Chris had the misfortune to have a rollover at Pithara a while back. Happily he was unharmed but the car needed some major repairs. All is restored now and the no. 63 car will be on display on Saturday 14th April at the Display and Presentation Day in Larke Crescent, Corrigin.