A Few Good Men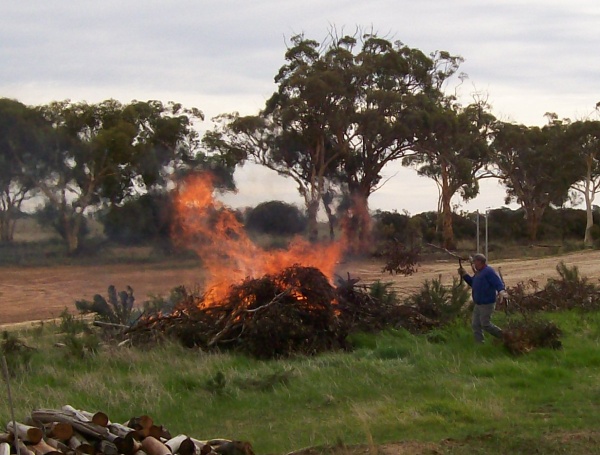 The clean-up of the speedway track is continuing thanks to the dedication and commitment of a few good men and women.
We would like to see more of the local Corrigin residents becoming involved in what is essentially their speedway venue.
This time of year is characterized by the burning off of unwanted trees, shrubs and leaf litter in readiness for the summer and there is plenty to be burned at the track after years of neglect.
We will be working on the problem on a regular basis at approximately fortnightly intervals as weather permits and providing there are no clashes with race events.
Check our facebook page (www.facebook/westcoastspeedcars) for more details on when the busy bees are on.
There will be transportable buildings arriving in the near future and areas need to be cleared to accommodate them.
The layout of the track has been altered a little as far as the pits in and out access is concerned.
Ron Poultney (a local Corrigin farmer from across the road), was good enough to provide assistance with his tractor to do the track work.
Ron and friend Brian will be picking up the scrap metal from the designated heap and exchanging it for cash which will be funneled back into the Corrigin community.
Keven Miles and his team were there to do a little more work on the plumbing of the toilets.
The rules have changed slightly on what is and what is not likely to be funded by government grants. The government is only interested in helping us with the safety barrier and all the rest has to be funded by some other means.
We are therefore looking for sponsors for the track so if your business would benefit from some advertising signage at the trackside please don't hesitate to contact us as funds are needed now to get the track operational as quickly as possible.
The first events that will take place are those that do not require a full safety barrier. Things like go-karts, motor bikes, sedans and burnout competitions are most likely to be first off the rank.
As long as we have sufficient toilet facilities provided, (we can always have a catering van for refreshments, or a sausages sizzle), we should be able to start running some events.
–          Christine Meakins